The world's simplest multilanguage player
PolyPlay's all-in one player combines all your multilanguage videos in a single player. Choose your preferred language in the menu and you're set.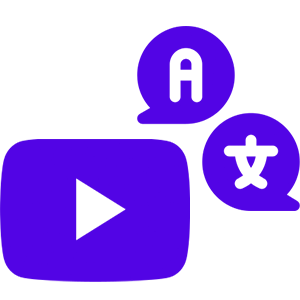 Compatible with live streams and VOD, Polyplay.io's multilanguage player supports virtually any video hosting provider and online event platform. Are you an A/V check our production workflow to use the player.
Browse products below, or use the iframe embed code below to try it in your website or web platform right now.
Flexible online shopping experience
Easy checkout and transparent pricing
Browse, customize and purchase your player today! Start using it almost immediately with our fast email delivery.
One-off purchase, yearly subscription to unlock discounts, and even custom full-service, everything is possible with Polyplay.
Support anytime, day or night
With 24/7 global customer support, we are there for you whenever you need assistance.
Do you still have questions?
I produce my interpreted videos myself, can I still purchase a Polyplay player?
Of course ! The Polyplay Multilanguage player is designed to be completely flexible. Just input your videos/streams URLs when configuring your player and you're good to go.

We highly recomend that you take a look at our production workflows to understand how it works.
Can I update my streaming/video URLs after the purchase of my player?
No, the configuration is final for each player created. That being said, you can always contact us if your situation is specific and we'll work out a solution.
How can you guarantee the player's performance?
We do not re-host or re-stream your content, so your player's performance and load capabilities will remain unchanged.
How do I know the player is going to work?
Polyplay.io's multilanguage player has been successfully used on large-scale real events around the world for major customers.
I already have my interpreters but need help setting things up, can you help?
Absolutely. You can have your own interpreters, your own interpretation software, your own video hosting provider, or only one of these, everything works. Polyplay.io's flexibility allow us to cater for any scenario. Contact us to describe your project and we'll design a bespoke solution for you!
Are you looking for more information?
If you have any other questions - about PolyPlay, a booking, A/V, or anything else - please contact us.